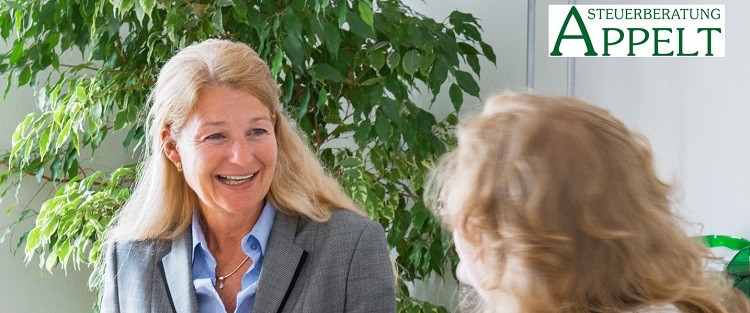 Auf die Erfahrungen dieser Steuerkanzlei können Sie vertrauen
Die Steuerkanzlei Appelt befindet sich im Osten von München. Diese gehört zu den führenden Kanzleien der Region. Um den Mandanten umfassende Steuer- und Rechtsberatung anbieten zu können, ist die Kanzlei mit weiteren Steuerberatern und Rechtsanwälten in einer Bürogemeinschaft zusammengeschlossen. Neben der nationalen Steuerberatung ist diese Kanzlei auf internationale Sachverhalte und Mandanten spezialisiert.


Steuerberatung für Privatpersonen
Steuerberatung für mittelständische Unternehmen
Steuerberaterin für Unternehmen und Selbständige
Internationale Steuerkanzlei
Buchhaltung online
Belege online
Beratung für Unternehmen und Selbständige
Optimieren Sie Ihre Steuern durch steuerliche Gestaltungsberatung der

Steuerkanzlei Appelt

.
Die Steuerberatung Appelt berät Sie bei der Existenzgründung

.

Die Steuerberatung

erstellt Ihre Jahresabschlüsse und Steuererklärungen

.

Die Steuerberatung

bietet auf Ihre Bedürfnisse abgestimmte Finanz- und Lohnbuchhaltung
Lohnabrechnungen und Gehaltsabrechnungen
Profitieren Sie von der betriebswirtschaftlichen Beratung und langjährigen Erfahrung von der Steuerberaterin Alexandra Appelt.


Internationales Steuerrecht
Durch unsere Spezialisierung auf internationales Steuerrecht haben wir umfangreiches Know-how mit Auslandssachverhalten:
Profitieren Sie von unserem Know-how über

Doppelbesteuerungsabkommen

, die Deutschland abgeschlossen hat. Wir stellen sicher, dass Ihre Einkünfte entsprechend den Regeln nicht doppelt besteuert werden.

Als

deutsche Niederlassungen einer ausländischen Firma

passen Sie optimal in unsere Mandantenstruktur. Nutzen Sie unser umfangreiches Wissen.

Für

Steuerausländer

(Personen mit Einkünften im Inland und Wohnsitz im Ausland) bieten wir maßgeschneiderte Lösungen und kurze Wege mit modernen Kommunikationsmitteln. Gerne vertreten wir Ihre Interessen als Bevollmächtigter gegenüber den Finanzbehörden.

Sie haben Ihren Wohnsitz/Betriebsstätte in Deutschland und betreiben Ihre Geschäfte international. Klären Sie mit uns steuerliche und betriebswirtschaftliche Fragestellungen und gestalten Sie Ihre Auslandstransaktionen

optimal.
Lernen Sie von uns, wie Sie Ihre Verrechnungspreise und sonstigen Transaktionen mit ausländischen Konzerngesellschaften gestalten können.

Mehr Infos zu Appelt Steuerberatung
Auf unsere Erfahrung und Steuerliche Beratung können Sie vertrauen!
104 Bewertungen zu Appelt Steuerberatung
von Werner Franzl MeinFest GmbH am 14.07.2021 15:59

Neben korrekter Erstellung der Buchhaltung und Abschlüsse, auch TOP Beratung. So soll es sein. Darüber hinaus auch freundliches und hilfsbereites Team, auch wenn es mal schnell gehen muss. Danke für ihren Service.

von Hr. Ruhm am 14.04.2021 15:24

Sehr angenehm, sehr professionell und sehr verlässlich. Nur zu empfehlen.

von Jasmine am 12.04.2021 14:19

My family is really satisfied with the service. We chose this company since we moved to Munich and never considered to change. What I like the most is their best service, quick response for requests and very professional knowledge. I think they deserve the compliment.

von Anonym am 24.03.2021 10:13

Es wurde super Arbeit geleistet. Ich war wirklich spät dran mit meiner Steuererklärung und wurde ganz unkompliziert beraten und mit den nötigen Fakten versorgt. Nachdem ich die Belege eingereicht hatte, wurde alles sehr schnell bearbeitet und ich hatte zeitnah die Rückerstattung auf meinem Konto. Und das trotz dem Fakt, dass ich mal angestellt, mal freischaffend gearbeitet habe und zwischendrinnen auch als arbeitssuchend gemeldet war. Wirklich top. Ich bin sehr zufrieden und würde die Steuerberatung Appelt mit bestem Gewissen weiterempfehlen.

von Ekolane Dämmstoff GmbH am 23.03.2021 09:12

Sorgfältig, schnell, zuverlässig, so stelle ich mir das vor. Ich kann diese Steuerkanzlei nur wärmstens weiterempfehlen

von Anette Phillips Schiller am 25.02.2021 15:49

Ich bin seit drei Jahren Kundin bei Frau Alexandra Appelt und ihrem Team und war bisher immer sehr zurfrieden mit der Professionalität und dem Service.

von Jon am 18.02.2021 10:56

They did an excellent job and kept me informed every step of the way. Prompt and responsive - I was so glad to have their help navigating the German tax system as a newcomer to the country.

von Patrick D am 04.02.2021 08:18

I've been with them for years. Always pleased with the service and the communication. Someone is always available to answer questions when I have them.

von Fantastic am 03.02.2021 12:17

I have had prompt responses and great management of my German taxes. Always got it right on the first time and really took a load off of my mind. I highly recommend for any American who is looking for a tax specialist in Germany!

von Iulian R. am 02.02.2021 20:26

Working as a freelance engineer I have used Appelt Steuerberatung as my tax advisor for 6 years now. I am very satisfied with their work. The team is very communicative, easy to work with, and extremely professional. I would highly recommend them to any professional working permanent or temporary in Germany. I will definitely keep working with them.

von Alex am 12.01.2021 20:43

Very professional. Perfectly handling our complex tax situation with revenue from abroad Germany.

von Vaclav Brozek am 11.01.2021 18:16

Über mehrere Jahre eine konsistent ausgezeichnete Erfahrung. Ich werde immer gut beraten, alle Fragen von mir (und vom Fiskus) werden ausreichend beantwortet. Das Ergebnis ist finanziell auch ständig sehr gut, und die Kommunikation effektiv und schnell. Steuerberatung Appelt ist damit als höchst zuverlässiger Partner zu empfehlen.

von Erik am 16.12.2020 12:05

I am an expat living in Germany and have used this service several times. The service is professional, accurate and timely. In fact my employer used to provide me this service through Deloitte and I find Appelt to be much smoother and easier.

von Florian D. am 27.11.2020 21:34

Stets kompetent und immer freundlich, absolut empfehlenswert! Unsere Steuererklärung muss sich mit verschiedenen Nationalitäten und Firmensituationen beschäftigen, Frau Appelt hat uns hier schon ein mehrfaches ihrer Gebühren an Steuern reingeholt.

von Piotr am 23.11.2020 14:36

I am very happy with quality of work provided by Appelt Steuerberatung. It was my second time when Appelt Team took care of my accounting during my working period in Germany. Top quality, highly recommended.

von Ivana am 20.11.2020 12:49

Sehr professionell, super Erfahrung, alles sehr einfach und schnell. Alles war mit ein paar E-Mails erledigt. Hohe Qualität zum angemessenen Preis. Ich kann es nur weiter empfehlen.

von imran Kahn am 06.11.2020 09:14

Appelt Steuerberatung was recommended to me by my US Tax Accountant and I've been incredibly satisfied with their work. The team is very communicative, easy to work with, and extremely professional. I would recommend them to any expat living in Germany (especially if you have a complicated tax situation).

von Familie Feist am 05.11.2020 17:33

Frau Appelt ist eine sehr kompetente und freundliche Steuerberaterin, die uns immer sehr schnell gute Lösungsansätze aufzeigen kann. Auch das gesamte Team ist wissensfundiert und bereit mal kurzfristig zu unterstützen. Wir fühlen uns sehr gut beraten. Ich empfehle die Kanzlei sehr gerne weiter .

von Buhtz am 05.11.2020 07:37

Seit Jahren für mich DIE Steuerberatung- kompetent und verlässlich mit hervorragender Beratung! Kann ich uneingeschränkt weiterempfehlen.

von Maxim K. am 29.10.2020 08:34

I'm a happy client of Alexandra Appelt and her team for several years now. I'm happy with the service overall, the tax returns they prepared were never contested by the tax office and it's easy to reach them via email, no calls or visits required. There's been some minor issues sometimes but nothing serious. The price is reasonable, 600-900 EUR per year depending on the complexity (e.g. spouse also earning as a freelancer).

von Fam. D. am 06.10.2020 18:15

Schnelle Antwortzeiten! Wir sind seit mehreren Jahren in der Kanzlei von Fr. Appelt und haben auch vor viele weitere Jahre dort zu bleiben!

von Anonym am 25.09.2020 08:26

Firma Appelt bereitet unsere Steuern seit mehreren Jahren. Da eher komplizierte Situationen bei uns öfters vorkommen, schätzen wir die gründliche gewissenhafte Einstellung mit der diese Steuerberatung ihre Sache angeht.

von Anonym am 16.09.2020 16:22

Frau Appelt ist eine sehr kompetente und freundliche Steuerberaterin. Ich empfehle sie sehr gerne weiter .

von Markus S. am 16.09.2020 07:48

Wir sind seit mehreren Jahren bei Appelt Steuerberatung. Frau Appelt und das Team zeichnen sich durch ihren sehr professionellen, kompetenten und freundlichen Service und hervorragender Beratung aus. Sehr Empfehlenswert!

von Matt Barton am 08.09.2020 09:17

I have always been very happy with the services provided both for my business and for my personal tax affairs.

von CA am 24.08.2020 16:14

Professional, competent, and always friendly. Ms. Appelt and her colleagues were helpful with all the questions we had about filing responsibilities for US Expats and mixed nationality families.

von Anonym am 02.08.2020 11:51

As a US expat, I have to use a competent accountant who is knowledgeable for both US and German taxes. I have been using Ms. Appelt and her office for the German tax declaration for several years. This year, I had to file for the liquidation of old IRA and had to submit more documents for the new tax filing requirements, but these were no problem for Ms. Appelt and her office colleagues, who are always up-to-date in their accounting information, very professional, competent and friendly. I am very grateful that they are doing my tax returns. Highly recommended !!!

von Jürgen Pianka am 29.06.2020 09:30

War sehr höflich und zuvorkommend. Erledigungszeit sehr schnell und immer verfügbar bei eventuellen Rückfragen trotz Corona Zeit. Würde ich weiter empfehlen.

von Sokrates am 27.06.2020 12:41

Very professional, efficient, and friendly. Appelt Steuerberatung also have contacts to foreign (e.g. US) tax advisors making preparation of German and foreign taxes much easier for expats.

von Florian D. am 08.06.2020 09:49

Wir sind sehr zufrieden. Auch mit komplexen Themen wie Dual Citizenship (USA) fühlen wir uns rundum gut beraten!

von Anonym am 25.05.2020 06:38

Ein rundum kompetentes, freundliches und sehr effizientes Team.

von Jasmine Zhou am 10.05.2020 17:22

I have been using their service quite many years since I moved to Germany, and am always satisfied. They perm a high quality and effective feedback with quick response whenever I need them. I don't think I can find a better one.

von Jane RM am 30.04.2020 18:23

Appelt Steuerberatung have done the most amazing job for us over many years. They managed our joint tax return whilst we were in Germany and now they manage our German tax return from the United Kingdom. We would be lost without them, they are professional, friendly and very good at what they do. Thank you.

von Reinhard Mantei am 27.04.2020 14:30

Seid Jahren unser bewährter und zuverlässiger Steuerberater. Vielen Dank für die Zusammenarbeit.

von Malte K. am 19.04.2020 16:35

Ich habe bereits mehrmals meine Steuererklärung durch Frau Appelt erstellen lassen und war immer sehr zufrieden. Alle Belege konnten unkompliziert digital übermittelt werden, Fragen wurden kompetent beantwortet und die Bearbeitung war sehr schnell.

von Abraham am 07.04.2020 11:34

The whole team have been helping me since since >5 years (that I moved to Germany) with my Tax Declaration in Germany with absolute success. I genuinely trust that they are doing their very best to achieve the best possible outcome for me. I can only recommended them 100% and as long as I leave in Germany, I'll definitely keep working with them.

von Christina am 01.04.2020 14:28

Bin bei Frau Appelt bereist sein 2011 und kann immer wieder dasselbe berichten: alles wird schnell, kompetent und unkompliziert erledigt, das Kanzlei-Team ist auch sehr freundlich. Ich fühle mich gut aufgehoben und bin sehr zufrieden.

von Richard Foley am 01.04.2020 11:50

I've used Alexandra Appelt as my tax advisor, in my capacity as a freelance senior software developer and IT consultant, for many years. She and her firm has always been friendly, punctual, responsible and reliable. I recently had a large and fairly complicated issue with the tax office in Munich (it's not important exactly what it was) to resolve. Even though this issue caused me a great deal of personal uncertainty and concern, Alexandra was able to pull a rabbit out of the hat on my behalf and realize a successful and reasonable resolution to the crisis. I am more than satisfied with her services and recommend Appelt Steurberatung unreservedly 100%. nb. I wrote this in rusty German originally, and to reach a greater audience write it again in native English here.

von Richard Foley am 29.03.2020 07:34

Die Alexandra Appelt habe ich, als Freiberüflich IT entwickler (software developer and consultant), zeit Jahren benutzt als Steuerberatin. Sie und ihr Firma ist immer Freundlich, punktlich, veranwortungsvoll und zuverlässig. Ich hätte in letztden zeit einen riesen und komplizierten sache (es ist egal genau was) mit der Finanzamt zu erledigen. Eben das ich einen grossen Sorge hätte hat die Alexandra das alles zeitmässig und erfolgreich gelöst und erledigt. Ich bin mehr als zufrieden und empfehle das Firma Appelt 100%.

von Lilia M. am 26.03.2020 12:16

Bin seit Jahren Kundin der Steuerkanzlei Appelt - sehr kompetente, schnelle und freundliche Beratung. Empfehlenswert!

von Anonym am 19.03.2020 05:34

Friendly and got the job done!

von A.Pauly am 06.03.2020 07:34

Ich schätze seit Jahren die kompetente, seriöse, überaus freundliche und professionelle Bearbeitung meiner Unterlagen. Rückfragen werden sofort geklärt und für mich sehr verständlich erläutert. Alle Absprachen werden eingehalten und ich erlebe jedes Jahr hervorragenden Kundenservice.

von Gary WILSON am 05.03.2020 06:59

Guaranteed excellence. I have used Alexandra Appelt and her team for the submission of the annual tax return for a few years. Once again they have delivered a perfect tax declaration and I got money back from the Steueramt

von Adrian am 21.02.2020 08:46

Another successful year of working together! great service, excellent results!

von Sohaib am 14.02.2020 14:41

I have been using Appelt Steuerberatung for 3 years now. Fast, friendly, and professional service - I highly recommend them.

von Job am 11.02.2020 09:05

Professional and speedy service for non-german speakers.

von Alexander am 29.01.2020 10:46

Consistently great service year after year! Always prompt and detailed feedback, personal approach, very competent, professional, "to the point" help! Really top! Thanks so much and keep up the great job! :)

von Mr & Mrs Hogan am 16.01.2020 19:40

Having utilised the services of Frau Appelt now for several years, for our yearly tax returns, we would definitely recommend this Steuerberatung. Frau Appelt and her team have always given us fast and efficient service, resulting in a speedy completion of our tax return.

von Stefan am 15.01.2020 11:38

As an expat in Germany I was looking for English speaking tax advisor. I was recommended to reach out to Alexandra Appelt and am happy ever since. The whole process of tax submission is stress free, I just fill one big doc, add few signatures to few forms and attach paperwork and job done. It usually takes between 3-4 weeks from my experience to get it done, but in my first year when I was late with submission, they managed to prioritize completion of my tax declaration to avoid getting taxes calculated by assumption of tax office. Overall very happy with the services provided.

von Felipe L. am 14.01.2020 12:10

I have been working with Appelt Steurberatung for more than 5 years and I'm very pleased with their knowledge, support and competence. Their service has been very good, always responding on time and demonstrating they are experts in their field. I wholeheartedly recommend working with them.

von Anonym am 07.12.2019 10:48

Kann ich nur empfehlen. Die haben mir gut beraten und meine Steuererklärung war schnell und kompetent gemacht.

von Anonym am 30.11.2019 10:32

Alles bestens, die Kommunikation ist sehr freundlich, Fragen werden schnell beantwortet. Die Korrespondenz mit dem Finanzamt wird quasi komplett übernommen. Ich habe bisher nur gute Erfahrungen gemacht, daher kann ich die Steuerberatung Appelt nur weiterempfehlen. Ich selbst bin selbstständig und wollte meine buchhalterischen Tätigkeiten auslagern. Das hat gut funktioniert.

von Y.I. am 28.11.2019 18:24

Competent and professional, I have nothing but positive experience with Ms. Appelt and her team for my German tax filing. I, as a US citizen living in Germany, am very thankful that Ms. Appelt and her team are handling my German tax filing year after year with the great knowledge in the complex US – German taxation. For example, the German tax office handed me the bescheid for 2018 more than double the amount of the initial filing. Ms. Appelt recommended me to file an appeal, after waiting a few months, I got a refund over 3000 euro. Her advice and explanation are always precise and clear. Her rate is very reasonable for the great service. At last, but not least, she and her colleagues communicate with me in friendly English, which makes the daunting tax filing even a bit pleasant and less intimidating experience. Highly Recommended!

von YL am 28.11.2019 08:34

Bin seit fast 10 Jahren hier Kunde, immer alles sehr professionell und zügig. Auch Recherchen zu besonderen steuerlichen Themen im Bereich des internationalen Steuerrechts werden sehr professionell und zu fairen Konditionen gehandhabt. Klare Empfehlung!

von Peter Timmer am 31.10.2019 08:45

sehr sympathisch und kompetent. 100% empfehlenswert

von Stefanie Costa am 29.10.2019 09:46

Appelt Steuerberatung was recommended to me to advise on tax questions for dual citizens and I have been very pleased with their service. After an initial consultation at their office, all communication and the actual tax return were handled via email - everything was very convenient, hassle-free, reliable, punctual and professional. I highly recommend Mrs Appelt and her team.

von Erika am 27.10.2019 15:12

Appelt Steuerberatung has prepared my German tax returns for several years, both as a freelancer and as an employee. I've always been satisfied with their services and particularly recommend them for US citizens living in Germany.

von G.Sch.-W. am 20.10.2019 15:15

Schnelle und kompetente Beratung sowie Durchführung.

von Anonym am 18.10.2019 13:57

We have used Appelt Steuerberatung for 12 years, and we are always very happy!

von Elektrounternehmen am 09.10.2019 20:45

Wir wurden immer sehr schnell und kompetent beraten. Die Abwicklung aller unserer Steueraspekte funktioniert reibungslos. Wir sind sehr zufrieden und können die Kanzlei sehr empfehlen.

von Maksim am 17.09.2019 00:04

I have only been having great experience with Appelt Steuerberatung. Always qualified responses, hassle-free preparation of the declaration, good tax refund amounts.

von Adrian am 11.09.2019 10:55

It's been a real pleasure working with Mrs. Appelt and her team. Very professional, both on consultation and execution.

von Anonym am 11.09.2019 09:27

Appelt Steuerberatung have repeatedly excelled in providing excellent, timely service. Communication from the team is clear and concise, and they are happy to get on the phone to speak directly. They provide helpful timeline estimates as to how long a tax filing will take and helpful information about the exact process that will be followed. I have returned to them each year specifically because of their expertise, transparency, and service.

von Piotr am 08.09.2019 19:48

Great and competent accounting company. If you are from abroad, work in Munich area and need assistance with your tax papers you couldn't find better company. They did a great job for me so they will do the same for you. Thumbs up!

von Piotr am 08.09.2019 14:14

Highly recommended tax consulting company. If you are from abroad and you need your tax affairs taken care by the professionals, you couldn't find more competent team to do it. All you have to do to trust them and you will be satisfied with their knowledge and experience. Thumbs up for the Appelt team!

von Anonym am 04.09.2019 16:29

Fast efficient service for English speakers living in Munich

von Imran Khan am 29.08.2019 23:31

I was connected with Alexandra through my tax consultant who handles my US taxes. Alexandra and her team have always incredibly professional, punctual and very helpful with all my tax related needs in Germany. They have been able to clarify items that were confusing to me and they were even able to help me set up Tax ID number for a small business. I could not recommend them more highly and the fact that they are kind and courteous is just a bonus.

von Ralitsa Ivanova am 05.08.2019 13:01

Perfect service, perfect attitude! Excellent specialists! Always answering our questions very fast. All the documents are prepared in English and German which is a great service for the foreigners. We got all the explanations and strategies we asked for!

von Mantei am 29.07.2019 08:43

Die Steuerkanzlei Applet betreut uns seit vielen Jahren und macht für uns die Steuererklärungen als Kleinunternehmer und Angestellte. Die Betreung ist exzellent und sehr zuverlässig. Frau Appelt steht uns für alle Fragen zur Verfügung. Vielen Dank für die sehr gute Zusammenarbeit.

von Louis O'Brien am 27.07.2019 13:25

Prompt, high-quality service. Have been with them for years. Highly recommended.

von CD am 03.07.2019 22:17

After a bad start with a different "steuerberater", I moved to Alexandra and her team 5 years ago. Since then I stopped worrying about finanzamt affairs. Pluses: literally everything can be handled remotely and they're very responsive. Highly recommended.

von Nic am 26.06.2019 19:05

I have been using Appelt Steuerberatung for nearly 10 years now. The service is extremely professional and I would be happy to recommend.

von Chris am 24.06.2019 19:46

I can highly recommend their services. Very professional and reasonable prices. I recommend them to everyone at my office. Great attention to detail and timely responses to emails. They can handle all inquires via email though I went in-person for my first year with them, their office is just a little outside the city but easy enough to get to by public transport if interested in going in person.

von Susan Schöning am 10.05.2019 09:25

Highly recommended. I have been working with Alexandra Appelt and her very professional team for the past 9 years. They give a highly personal service and have certainly helped me to navigate through the German financial system with ease. She has given valuable advice as my business has grown over the years. I consider Appelt Steuerberatung an essential part of my management team.

von Chris am 03.05.2019 08:30

Very good and competent service. Frau Appelt has been my accountant for many years. l've had no problems. Recommended

von Bettina Grischy am 18.04.2019 10:34

Wir schätzen sehr die immer kompetente, zeitgerechte und freundliche Beratung, auch bei komplexen Sachverhalten. Hier ist unsere Steuererklärung in besten Händen.

von Adam and Jane am 27.02.2019 13:10

We can highly recommend Appelt Steuerberatung. Their service is always excellent; efficient, fast responses, very clear explanations, very reliable and also proactive in supporting us to optimise our returns in co-ordination with the latest tax laws and directives. Thank you for the excellent service and support over the many years!

von S. Hübner am 13.02.2019 04:49

Ich brauchte Hilfe bei meiner Einkommensteuererklärung mit internationalem Bezug und wurde von Frau Appelt in sehr angenehmer und freundlicher Atmosphäre umfassend und optimal beraten. Das Ergebnis sprach für sich. Ich kann sie uneingeschränkt weiterempfehlen.

von Alexander am 05.02.2019 15:26

I've been using service of Alexandra Appelt and her team for a few years now. I always get all the necessary details I need to know upfront, prompt and exhaustive responses to all my queries - exceptionally great professional service! Thank you very much!

von Anonym am 04.02.2019 20:49

Ich bin seit Beginn meiner Selbständigkeit (inzwischen 8 Jahre) von dem Kanzlei-Team sehr professionell betreut worden: stets nett, pünktlich, unkompliziert, effizient und immer zu meiner vollsten Zufriedenheit. Sehr empfehlenswert.

von Mircea P. am 31.01.2019 14:28

Very helpful and effective team, offered me support beyond basic tax filing and were always communicative.

von Mr & Mrs Hogan am 09.01.2019 19:05

Having been recommended by a colleague to utilise Appelt Steuerberatung for our yearly tax returns, my husband and I have found them to be extremely efficient, communicative and very helpful in navigating us through this process and liaising with the Finanzamt, particularly with us being UK Nationals living and working in Germany. Would most definitely recommend this Steuerberatung.

von Charles am 28.08.2018 14:52

I have been a customer of Steuerberatung Appelt for the last three years. They provided me a very knowledgeable, professional and fairly priced service for time that I lived and worked in German with my family. I would recommend them to any Uk expats needing tax advice services in Germany.

von Balazs E. am 14.03.2018 09:54

I've been a very happy customer of Appelt Steuerberatung for multiple years in a row now. They work fast and precisely, and provide a very convenient, fully-electronic service in both English and German.

von Erika am 12.10.2017 11:28

I've also been a happy customer for several years and would recommend Alexandra and her team to anyone who has to file taxes in both Germany and the US.

von Günther am 07.07.2017 19:20

Sehr zuverlässig, proaktiv (weist auf bestimmte Fristen vorzeitig hin), alles in allem eine sehr gute partnerschaftliche Zusammenarbeit, kann ich auf jeden Fall empfehlen!

von Dr. Kathrin DiPaola am 07.07.2017 09:28

Seit unserem Umzug aus den USA vor 7 Jahren lassen wir uns von Frau Appelt und ihrem Team kompetent betreuen. Beide Steuererklärungen, sowohl in Deutschland als auch den USA, werden schnell und professionell erstellt und jeglicher Beratungsbedarf zufriedenstellend abgedeckt. Das Team ist zudem freundlich, immer ansprechbar und fachlich auf dem neuesten Stand. Ich kann die Steuerkanzlei Appelt nur wärmstens weiterempfehlen.

von mrs GmbH am 30.05.2017 14:22

Die Steuerberatung Appelt ist für uns ein stets sehr kompetenter und zuverlässiger Partner. Wir schätzen die äußerst genaue, pflichtbewußte, korrekte und professionelle Abwicklung sehr. Das Team der Steuerberatung Appelt ist, so scheint es uns, stets auf dem neuesten Stand durch kontinuierliche Weiterbildung. Wir können Frau Appelt und ihr Team uneingeschränkt empfehlen.

von Mohamed Amir Yosef am 10.04.2017 11:21

Everything went smooth and they managed to finish everything through email. They also speak good English, and the outcome was pretty satisfying and accurate! I highly recommend.

von Maksim am 24.03.2017 02:21

Had a great experience on preparing the tax return statement last year. I got clear responses regarding which additional costs may be deducted and which not. And no extra questions - only exactly the bits of information that were needed. Everything via e-mail, without wasting time on going to the office. Thank you!

von Forresters am 23.03.2017 15:46

Wir sind die englische Patentanwaltskanzlei Forresters mit einem Büro in München und seit über 5 Jahren sehr zufriedene Kunden. Die Zusammenarbeit läuft immer sehr unbürokratisch, schnell und unkompliziert ab, und ist fachlich auf höchstem Niveau. Bei Fragen und Problemen wird einem schnell am Telefon geholfen und für alle anderen Sachen wird für einen mitgedacht und die beste Lösung gefunden. Ausgezeichnet ist ebenfalls, dass alles genau erklärt wird und verschiedene Varianten mit Vor-und Nachteilen einfach dargestellt werden, obwohl es manchmal sehr kompliziert ist britisches Recht mit deutschem zu vereinen. Man kann sich zurücklehnen und sich auf das Hauptgeschäft konzentrieren, da man weiß es wird alles zeitnah und fristgerecht erledigt. Die Mitarbeiter der Steuerkanzlei arbeiten auf höchsten Niveau und die Stimmung ist trotzdem familiär, so dass die Zusammenarbeit einfach und zielführend ist. Wir sind sehr zufrieden und freuen uns auf die nächsten fünf Jahre!

von Damon am 06.03.2017 09:38

We've been very happy customers with Appelt Steuerberatung for several years. They are quick to answer questions (in both English and German!) and have always done a great job with our taxes.

von Laura Sánchez Serrano am 28.02.2017 10:20

We highly recommended Appelt Steuerberatung. We use their services since 2012 and are happy to do our tax return with them. They are very professional, attentive, fast and explain things in a way everybody can understand. Perfect service.

von Maureen Leary, American in Munich Germany am 25.01.2017 18:26

I have worked with Alexandra Appelt for my German tax filings for the first time this year and it was an extremely positive experience, I am an American living in Munich and have some complicated tax issues which she has handled expertly, She coordinates with my US tax attorney which is critical and I am able to communicate with her staff in English which is extremely helpful for me. Alexandra and her team are great to work with - highly knowledgeable, highly professional, responsive and very fair rates. I plan to engage her team for all of my future tax needs, highly recommended.

von :-) am 20.01.2017 08:13

I was rather new to the German tax system and I had some rudimentary questions and concerns. Ms. Alexandra Appelt and her team had been very helpful and their explanations were very clear, which was quite important because my German was not very good. I am very thankful that she and her team are helping my German tax filing with the great knowlage of the complexty of international taxation. They are very professional. I can highly recommend the Appelt and her team for the preparation of German taxex for the expats every year.

von Mo am 05.01.2017 11:42

I have been working with many accountants before but Alexandra Applet's team are the best accountants I have ever worked with before. They are professional and helpful, they explain all the procedures and make you understand all the liabilities and the best way to comply with the all the regulations. I can recommend them without any hesitations and THANK YOU for all your help and support that you have given me during the last few years.

von Ana am 01.01.2017 23:17

I fully recommend Alexandra Appelt services as Steuerberatung. She has been supporting me with the taxes declarations for 7 years now. She is very professional and helpful and we can comunicate in english, given my german is not so good. Every year i know i don´t need to worry with taxes declarations because Alexranda Appelt prepares everything accurately for me.

von Werner Franzl am 13.12.2016 10:53

Effiziente Beratung und gewissenhafte Buchhaltung hatte ich erwartet - und zu 100% bekommen. Darüber hinaus auch auf der Menschlichen Seite ein ganz liebes Team. So bin ich schon mit meinen Unternehmungen viele Jahre begeisterter Kunde www.franzls-jagdhuette.de franzl Marketing Service GmbH

von Dr. Siener / Grischy am 04.12.2016 17:40

Kompetent, zuverlässig & sehr serviceorientiert - vielen Dank! Die Kanzlei Appelt ist sehr kompetent, pünktlich & insbesondere serviceorientiert. Fragen werden kurzfristig und professionell beantwortet. Wir werden hervorragend beraten und fühlen uns bei Frau Appelt bestens aufgehoben. Erwähnenswert ist auch der unproblematische Email-Verkehr mit der Kanzlei. Die Steuerberatungskanzlei Appelt können wir uneingeschränkt weiterempfehlen.

von Saskia A. am 02.12.2016 21:41

We have been clients of Steuerberatung Appelt for ten years, and have always been more than happy with everything about the company! I highly recommend them, for both personal and small business accounting and tax work (we have used them for both). It's also really helpful to be able to work with someone in English, since for many expats, taxes are too complicated to manage in German!

von Christina am 29.11.2016 15:47

Ich bin bei Frau Appelt seit Beginn meiner Tätigkeit als Freiberuflerin Im Januar 2012, und ich bin sehr zufrieden: Frau Appelt und alle ihre Mitarbeiter sind sehr kompetent, schnell, freundlich und unkompliziert. Sehr zu empfehlen!

von Pauli am 14.11.2016 10:38

Meine Steuererklärung wurde sehr schnell, kompetent und freundlich bearbeitet. Eine Rückfrage von mir ist umgehend beantwortet und bearbeitet worden. Preis-Leistungsverhältnis hervorragend, immer wieder!

von Pia Seifert am 12.02.2016 19:41

Ich bin eine über 3-jährige treue Kundin der Steuerkanzlei Apelt. Meine Beraterin Frau Alexandra Appelt ist stets zuverlässig, hat gute Vorschläge und hat 100% meines Vertrauens. Darauf kommt es mir an! Meine Themen und Anliegen werden immer sehr kompetent geklärt und behandelt! Ich schätze die unkomplizierte Art der E Mail Kommunikation und die Möglichkeit der fast papierlosen Bearbeitung sehr. Ein großer Dank an das ganze Team der Kanzlei.

von Angus Maculay am 18.09.2015 09:50

Very service oriented and competent.