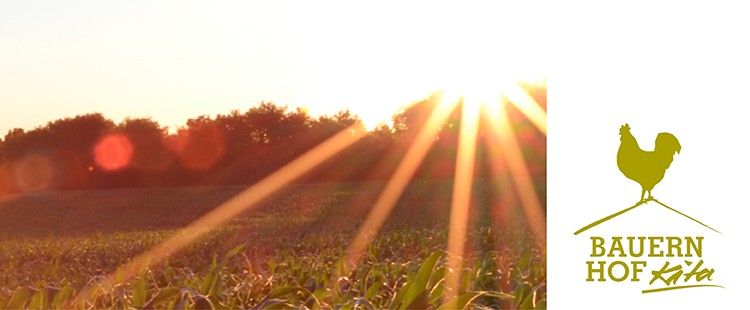 The best for your child for over 10 years
Our founder Helli – herself a mother of three children – had a vision:
To create a place the way she wants it for her children and founded the Child Care Company, a chain of kindergartens. But what counts is the essentials and so after years of hard work she was able to realize her dream -.
the first and only farm day care center in Munich!
Munich's first and only farm day care centre was built on a former farm site near Lake Feldmoching, surrounded by meadows and fields. On an open space of 7,000 square meters, the children have enough space to develop and the possibility to grow up in harmony with nature and animals.
Our nursery and kindergarten rooms are housed in an architectural gem that allows for plenty of light, space and connection with nature outside.
Give your child the opportunity to grow up in harmony with nature and to develop naturally, originally and therefore really freely!
We take a lot of time for you and your child, because we want you to feel completely comfortable.
The acclimatisation to the nursery is the basis for a good nursery education.
If the settling in process does not go well or is not carried out pedagogically correctly, the child will have problems again and again during his or her time in the nursery. These can be, for example, that the child experiences great pain during the separation and can not be comforted all day. However, it can also manifest itself much later, for example, as a disturbance in the attachment and relationship to other people or partners.
That is why the acclimatisation is particularly important for us.
The acclimatisation process is based on the Berlin Model and lasts approximately four weeks. We settle in a maximum of two children at the same time in a group. We schedule the children's start of the day differently so that we can devote enough time and attention to each child and his or her parent.
Love and care
Not only do we give our children love and nurturing care, we also see ourselves as a service provider for parents and child.
Care from big to very, very small
In addition to our holistic care for school children from midday to evening, baby care is a novelty – even for the very, very small ones from as early as eight weeks!
For the time being, we offer care for school children up to the age of 12 three days a week with lunch, homework supervision, free play and creative activities. You can find out more about this in our service overview.
Baby nursery for the little ones
Since 2008, we have been accepting babies from 8 weeks old in our nursery, who are lovingly cared for by our empathetic educators. During these years we have been able to gather a lot of experience and are, so to speak, baby specialists.
Flexible booking times
Greatest possible flexibility in childcare
The Bauernhof Kita uses – in addition to our app for you – in-house software to record booking times correctly and in a time-saving manner. This way we can charge for all booking hours in the week and only charge you for extra hours if you actually come over your weekly booking time.
We know that flexibility is important for you or for your work and that is why we are flexible too!
Our unique booking system allows us to offer you as much flexibility as possible and different care times on different days are no problem at all for us. We want to support you in the best possible way, which is why we also offer you numerous services and are always open to all your wishes and needs.
Nutrition
The Bauernhof Kita provides the best possible food for its children at all meals. We pay attention to fair trade and use only 100% organic quality, preferably from regional production.
A healthy, balanced diet in childhood is the basis for health and physical development. In addition, eating habits are significantly shaped at this age and the basis for eating habits in adulthood is formed. Thus the starting point for a healthy adulthood is created in childhood.
The basis of the pedagogical concept is the Bavarian Educational Plan (BEP) and the Bavarian Child Education and Care Act (BayKiBiG). In doing so, the educational, care and supply mandate should be in a balanced relationship to each other, so that a holistic and comprehensive support of the individual child in the group is guaranteed.
The pedagogical concept of the Child Care Company is based on scientific knowledge of early childhood development, based on the infant pedagogical model of Beller, the Montessori approach of the educator as a companion and that of the child as a "builder of himself", enriched by the experiences of Pikler.
mehr Infos zu Bauernhofkita Mü-Feldmoching